Nola's Worlds #1: Changing Moon
By: Graphic Universe
ISBN: 9780761365389 (137p.) (2010) Format: Softcover, Undersized
In Alta Donna,the weather is great, the sunsets are super, and the stars twinkle brightly. Perfect, right? No! It's super boring. Nothing real ever happens. Everybody says I spend too much time daydreaming in my own little world. At least my dreams are more interesting than Alta Donna. But what if Alta Donna is hiding a secret? The two new kids in town are up to something. No one could be as good a baseball player as Damiano, and no one could be as charming as Inés. The moment they arrived, life in Alta Donna stopped being perfect and started getting weird. Who are they really?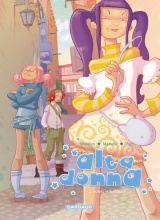 Nola's Worlds #2: Ferrets and Ferreting Out
By: Graphic Universe
ISBN: 9780761365426 (136p.) (2010) Format: Softcover, Undersized
It's a little known fact, but ferrets secretly run the world. Nola thought her biology report started out great. Everyone slese thinks she just makes up crazy stories. But she was right about the two new kids in town, Damiano and Inés. They're hiding a secret a big one. But there's more to figure out. Why do two weird creatures keep attacking them? What's going on underneath the too-perfect town of Alta Donna?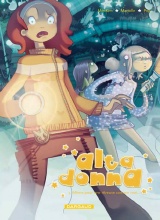 Nola's Worlds #3: Even for a Dreamer Like Me
By: Graphic Universe
ISBN: 9780761365419 (136p.) (2010) Format: Softcover, Undersized
Library books. They look so innocent and helpful. But did you know there s a border keeping the world of stories apart from the real-life world? Nola's friends Damiano and Inés crossed that border. They escaped from a book into her quiet, perfect little town. And boy, did they bring trouble with them. Now it s up to Nola to save the town, save her friends, and fix the damage to both worlds.