Asterix (Orion) #35: Asterix and the Picts
By: Orion
ISBN: 9781444011678 (48p.) (2013) Format: Softcover
Buy this from: amazon.com
| amazon.co.uk
When Asterix and Obelix rescue a mysterious Pict named MacAroon, they must journey to Caledonia, now Scotland, to return him to his lady love, Camomilla, the adopted daughter of the old king. However, the treacherous chieftain, MacCabeus, plans to marry her and claim the throne - with the help of the Romans! What with caber-tossing, bagpipes, malted water and an enormous otter in the loch, can the Gauls reunite MacAroon and Camomilla and enjoy some Roman-bashing along the way?
Asterix (Orion) #36: Asterix and the Missing Scroll
By: Orion
ISBN: 9781510100459 (48p.) (2016) Format: Softcover
Buy this from: amazon.com
| amazon.co.uk
Julius Caesar has finished writing the history of his campaigns in Gaul. His publisher, Libellus Blockbustus, forsees a huge success ... but there's a snag: the chapter about Caesar's defeats by the indomitable Gauls of Armorica. Cut it, Blockbustus advises, and everyone will believe that Caesar conquered all Gaul. Or will they? Newsmonger and activist Confoundtheirpolitix takes the chapter to Asterix's village. Can the Gauls make sure the truth is revealed?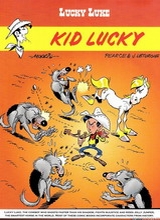 Lucky Luke (Eurokids 3-1) #5: The Terrific Tales of Lucky Luke
By: Eurokids
As: 'Kid Lucky'
ISBN: 9788128620614 (2009) Format: Hardcover
Buy this from: amazon.com
| amazon.co.uk
Lucky Luke (Eurokids) #5: Kid Lucky
By: Eurokids
ISBN: 9788128620379 (48p.) (2009) Format: Softcover
Buy this from: amazon.com
| amazon.co.uk
Lucky Luke (Eurokids 3-1) #6: Wild West Stories
By: Eurokids
As: 'Oklahoma Jim'
ISBN: 9788128620621 (2009) Format: Hardcover
Buy this from: amazon.com
| amazon.co.uk
Lucky Luke (Eurokids) #8: Oklahoma Jim
By: Eurokids
ISBN: 9788128620409 (48p.) (2009) Format: Softcover
Buy this from: amazon.com
| amazon.co.uk