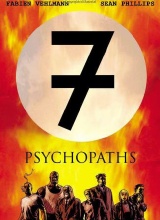 #1 Seven Psychopaths
ISBN: 9781608860326
Pages: 88
Year: 2012
Format: Softcover
Art: Sean Phillips | Script: Fabien Vehlmann

#1 (2007)
Sept psychopathes (62p)
7 men, 1 impossible mission - assassinate Hitler! With World War II in full swing, there's only one-way to draw the war to a quick end: kill Hitler. But who would be insane enough to try? Joshua Goldschmidt knows just the men to do it. Insane? Psychotic? Mad? Call them what you will, but the SEVEN PSYCHOPATHS are now the only hope the world has...
Buy this from: amazon.com
| amazon.co.uk
#3 Seven Warriors
ISBN: 9781608862665
Pages: 80
Year: 2012
Format: Softcover
Art: Francis Manapul | Script: Michaël Le Galli

#5 (2008)
Sept guerrières (62p)
Step into the world of 7 WARRIORS and follow seven beautiful women in 6th century Libya. The capitol of an ancient nation is surrounded by the Persian and Byzantine armies, and only these seven soldiers are chosen to save the heir to the kingdom. Seven Warriors. Seven...sexy, gorgeous women!
Buy this from: amazon.com
| amazon.co.uk
Space Warped
ISBN: 9781608866700
Pages: 144
Year: 2012
Format: Softcover
Art: Rudy Spiessert | Script: Hervé Bourhis

#1 (2010)
Naguère les étoiles 1 (as Space Warped 1) (46p)
#2 (2010)
Naguère les étoiles 2 (as Space Warped 2) (46p)
#3 (2011)
Naguère les étoiles 3 (as Space Warped 3) (46p)
Buy this from: amazon.com
| amazon.co.uk